Banana Fritters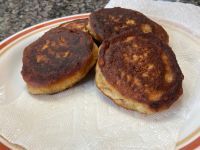 6 fritters
ingredients:
2 bananas, overripe
½ tsp vanilla
¼ tsp cinnamon
1 tbsp brown sugar
1/8 tsp salt
1 egg, beaten
½ cup flour
½ tsp baking soda
vegetable oil (for frying)
In a medium bowl, mash the bananas.
Add the vanilla, cinnamon, brown sugar, salt, and egg to the banana and mix well.
In a separate bowl, whisk the baking soda into the flour.
Add the dry ingredients to the wet and stir/fold until all the flour is incorporated. Do not overmix.
Pour vegetable oil in a small saute pan to a depth of barely a ½ cm. Heat over medium heat until shimmering.
Scoop ¼ cup portions of the batter into the pan (you'll probably get about 3 per batch). After 1 minute, use a spoon to ladle hot oil over the tops of the fritters.
Wait another 1 minute then flip. Cook another 2 minutes on that side, then move to a plate lined with paper towel.
Get 'em while they're hot.
---
Written by Jeff Frey on Thursday August 11, 2022
Permalink -