Knock-off Toowoomba Pasta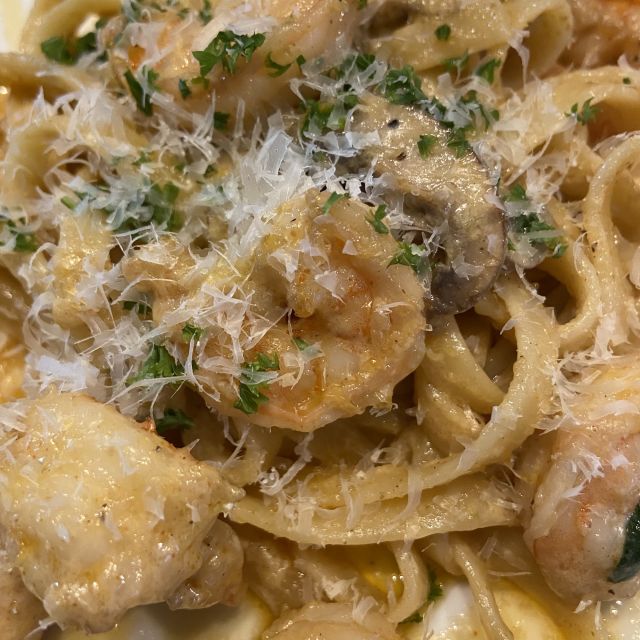 4 adults
ingredients:
12 to 16 oz (uncooked) fettucine pasta
1 small zucchini, cut into ½ inch wedges
8 cremini mushrooms, sliced
1 clove garlic, minced
1 lb 16-20 shrimp, peeled and deveined
2 tbsp olive oil
1 tbsp butter
salt and black pepper
3 tbsp butter
1 tsp paprika
1 tsp garlic powder
¼ tsp cayenne pepper
¼ tsp black pepper
¼ tsp coriander, ground
½ tsp salt
1 tbsp ketchup
1 ½ cup heavy cream
1 tbsp fresh parsley, chopped
parmesan cheese for grating
After cutting the zucchini and cremini mushrooms and prepping the shrimp, sprinkle all with salt and pepper. Allow to sit for at least 5 minutes before proceeding.
Bring a pot of water to a boil to cook the pasta. Don't forget to salt the water!
While the water is heating, put a large saute pan over medium heat and add the 1 tbsp of butter and the olive oil. Add the zucchini and saute, stirring often, for two minutes. Add the garlic and cook for one minute, then add the mushrooms and continue cooking for another minute, stirring often. Add the shrimp and cook, stirring often, until pink (about 2 to 3 minutes).
Remove the shrimp to one bowl, and the rest of the mixture to another bowl. Set aside.
Drop the pasta.
Return the saute pan to medium heat and melt the 3 tbsp of butter. Add the remaining ingredients (except parsley and parmesan) and whisk to combine.
Bring the mixture to a fast simmer, whisking often. Continue simmering until the liquid has reduced by about half.
Return the shrimp to the sauce and simmer another 3 minutes.
Drain the pasta and add it and the zucchini, mushrooms, and garlic to the saute pan with the sauce. Toss to combine, leaving on the heat for one minute.
Plate portions of pasta with sauce, shrimp, zucchini, and mushrooms mixed in. Sprinkle parsley over the pasta and top with some freshly-grated parmesan cheese.
---
Written by Jeff Frey on Friday September 3, 2021
Permalink -