Alfredo Sauce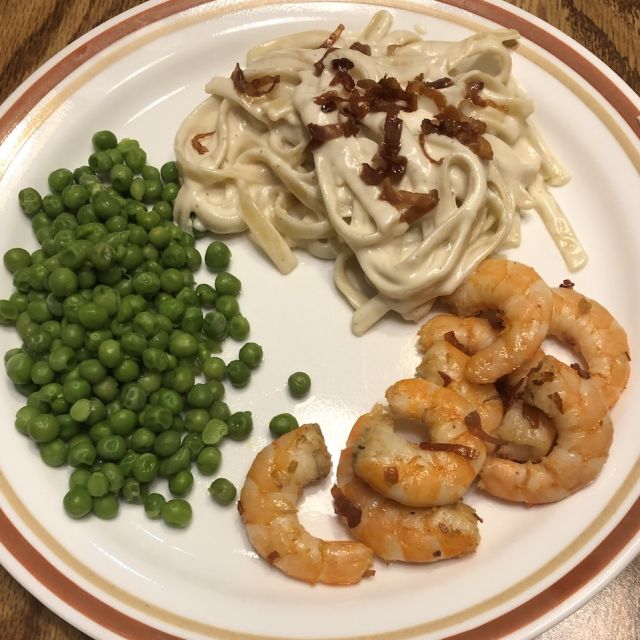 ingredients:
½ tbsp butter
1 tbsp olive oil
2 cloves garlic, sliced
1 tbsp flour
1 cup heavy cream (room temperature)
1 cup half-and-half (room temperature)
1 cup parmesan cheese, freshly grated (room temperature)
½ tsp salt
¼ tsp black pepper, freshly ground
For optional garnish:
1 large slice prosciutto
½ tbsp olive oil
1 tbsp parsley, freshly chopped
Since this sauce is likely going on pasta (fettuccine is the obvious choice) it's a good idea to get the pasta started before you make the sauce. Figuring on 10 minutes for dry pasta to cook, I prep everything ahead then start the sauce when I drop the pasta.
Melt butter in ½ tbsp olive oil in a large saucepan over medium heat. Add the sliced garlic and sauté for a minute or two moving the garlic constantly until the oil is fragrant. Remove the garlic with a slotted spoon to leave the oil behind and discard.
Add the remaining ½ tbsp olive oil and the flour to the saucepan. Mix to combine then stir frequenty while the flour cooks for 1 to 2 minutes.
Pour half the creme and half-and-half into the saucepan and whisk to dissolve the roux in the liquid. Pour the rest of the creme and half-and-half into the saucepan and whisk briefly until well-combined.
Bring to a simmer then reduce heat to medium-low. Simmer for 1 to 2 minutes until thickened, then add the parmesan cheese and whisk until smooth.
Add the salt and black pepper. Continue to simmer for 1 minute while stirring.
At this point the pasta should be finished. I use a saucepan large enough to add the pasta to the sauce. This recipe makes enough sauce for 4 to 8 servings of pasta (½ to whole box of dried fettuccine). With the pasta in the sauce I keep the saucepan on the heat for no more than 1 minute, stirring constantly to coat all the pasta with sauce.
Sprinkle crispy prosciutto bits and some freshly-chopped parsley on each serving and enjoy. A few shrimp and some baby peas make a nice dinner, in my opinion!
---
Written by Jeff Frey on Saturday November 21, 2020
Permalink -