It's-Just-Peanut-Butter Cookies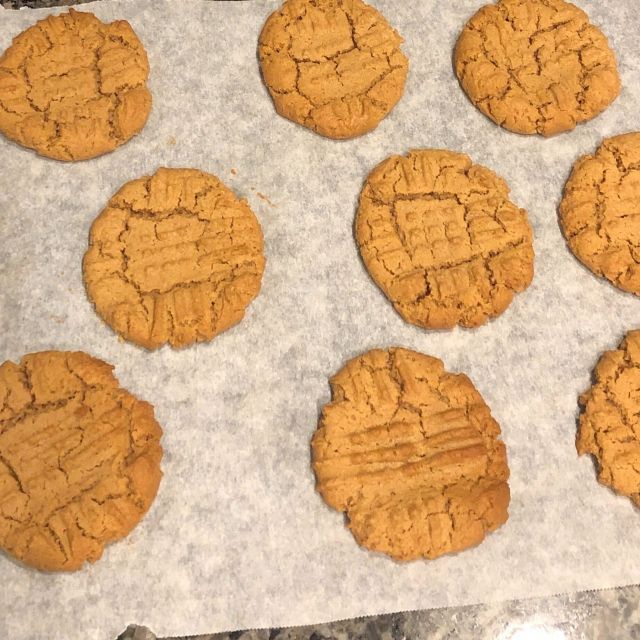 ingredients:
268 g smooth peanut butter (about 1 c)
120 g light brown sugar (about ½ c)
120 g granulated white sugar (about ½ c)
1 egg
1 tsp baking soda
1 tsp vanilla extract
¼ tsp salt
Preheat oven to 350 °F. Move racks to the middle.
Add the peanut butter and sugars to a large glass bowl. Mix thorougly with a wooden spoon — it will be sticky, scrape-off the spoon with a rubber spatula (not your fingers, you'll be too tempted to eat this Reese's-like stuff).
Make a well in the center of the mixture. Sprinkle the baking soda and salt over the entire surface, then and add the egg and vanilla to the well. "Scramble" the egg and vanilla in place, then stir and fold to mix the dough well and distribute the wet and dry ingredients thoroughly.
Line two cookie sheets with parchment and drop 8 or 9 1 oz balls of dough onto each sheet. Using the back of a fork, press each ball down and drag the tines through in one direction then again 90° to the original direction to make the traditional cross-hatch pattern. Each cookie should end up about 1/2" thick.
Bake for 10 to 12 minutes until the edges are beginning to brown.
Remove the cookie sheets and allow the cookies to rest on the sheet for 5 minutes before sliding the parchment onto a wire cooling rack for another 15 to 30 minutes.
Reuse the parchment to gently pack the cookies in layers into a tupperware.
The cookies will continue to firm-up over the course of the next 8 hours and also pickup moisture: after 8 hours they should be a perfect combination of crispy on the outside and chewy on the inside.
---
Written by Jeff Frey on Friday April 24, 2020
Permalink -