The Big P.B.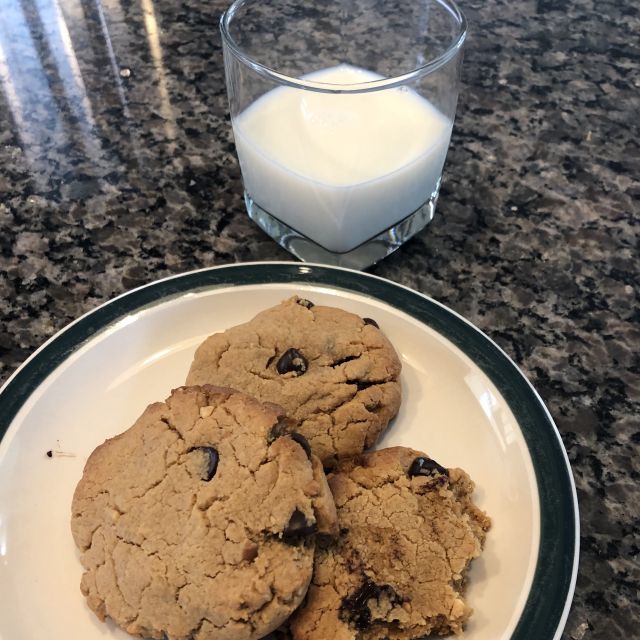 ingredients:
½ cup crunchy peanut butter
½ cup smooth peanut butter
¼ cup granulated sugar
½ cup light brown sugar
½ tsp salt (optional)
½ tsp baking soda
½ tsp baking powder
1 tbsp molasses
2 eggs
1 ¼ cup A.P. flour
½ cup bittersweet chocolate chips (optional)
Preheat the oven to 375 °F.
In a mixing bowl combine the peanut butters, granulated sugar, salt (if using), brown sugar, baking soda, and baking powder. Beat on medium-high speed for 2 minutes, scraping the sides of the bowl several times.
Beat the eggs together with the molasses then add to the bowl. Beat until combined, again scraping the sides of the bowl occassionally.
Incorporate the flour in two or three additions, beating briefly between each addition to combine. The dough will be dense and slightly crumbly.
Allow the dough to rest at room temperature for 15 minutes.
Portion the dough into 2 inch balls and place on a bare cookie sheet. Flatten each ball to a ¾ inch disc and press chocolate chips into the top of the cookie (if using). For a classic peanut butter cookie (sans chocolate) use a fork to make the traditional crosshatch pattern on top of each cookie.
Bake for 10 to 12 minutes until the edges of the cookies are browning.
Allow cookies to cool for 5 to 10 minutes on the cookie sheet before gently transferring to a wire rack to cool completely.
---
Written by Jeff Frey on Wednesday December 23, 2020
Permalink -