Vegetarian "Ground Beef"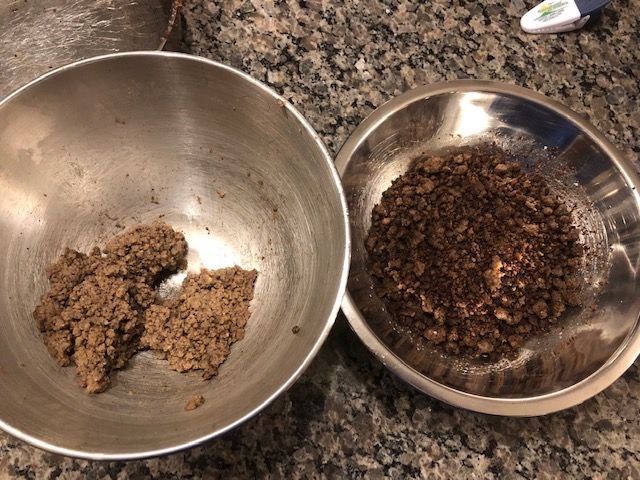 ingredients:
½ cup water
¼ cup jasmine rice
6 cremini caps, diced
1 tbsp butter, unsalted
1 tbsp olive oil
½ tsp salt
¼ tsp black pepper, freshly ground
1 can black beans (15 oz, drained and rinsed)
¼ cup teriyaki (or soy) sauce
¾ cup water
¼ cup nutritional yeast flake
1 tsp liquid mesquite smoke
1 ½ cup vital wheat gluten
Binder for ground product:
2 eggs, scrambled
1 tsp salt
Bring the ¼ cup of water to a boil. Cook the rice then set aside in a large bowl.
In a medium-sized pot over medium heat, melt the butter in the oil. Saute the mushrooms until softened and any liquid has been reduced slightly. Add salt and pepper then sauté an additional minute.
Add the beans, teriyaki (or soy), and ¾ cup water to the mushrooms. Reduce heat and simmer for 20 minutes, then purée with an immersion blender.
Add the purée and nutritional yeast to the rice. Stir to combine then cool.
Add the liquid smoke and wheat gluten in batches; kneed until the consistency is uniform and bread-like. Shape and wrap the loaf in plastic and foil. Place in a steamer for 1 hour.
Cool the loaf completely completely.
At this point the seitan loaf can be sliced thinly as a vegetarian lunch meat if you like. For ground product:
Cut the loaf into cubes sized according to your meat grinder (e.g. 2" to a side). Place cubes in the freezer until semi-hardened.
Grind the cubes (using a little crushed ice to clear the grinder), then add the salt and egg to the farce and stir gently to combine.
Tacos, Bolognese, Etc.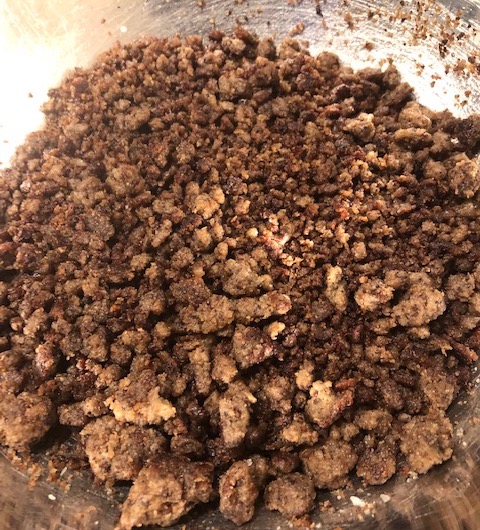 For tacos and other non-patty applications, refrain from any packing of the ground product. Heat the vegetable oil of your choice in a frying pan and sauté any vegetables (diced onion, carrot, garlic, etc.) to soften. Add any seasonings, then (making sure enough oil remains to fry the "meat") drop loose bits of the meat into the pan. Stir occassionally, chopping any large bits into smaller fragments. Continue frying until the "meat" is crisped.
Patties
For burger patties, reserve about 1/3 of the ground product. In a large skillet over medium heat, crumble the remaining product in batches and fry in shallow oil until crisped. Remove to a paper towel to cool.
Once the fried bits have cooled completely, crumbled the uncooked 1/3 of the product and add the fried bits, stirring gently to loosely combine. Add another scrambled egg if the mixture is too loose, then form into patties and freeze.
---
Written by Jeff Frey on Friday April 10, 2020
Permalink -