Pumpkin Spice Scones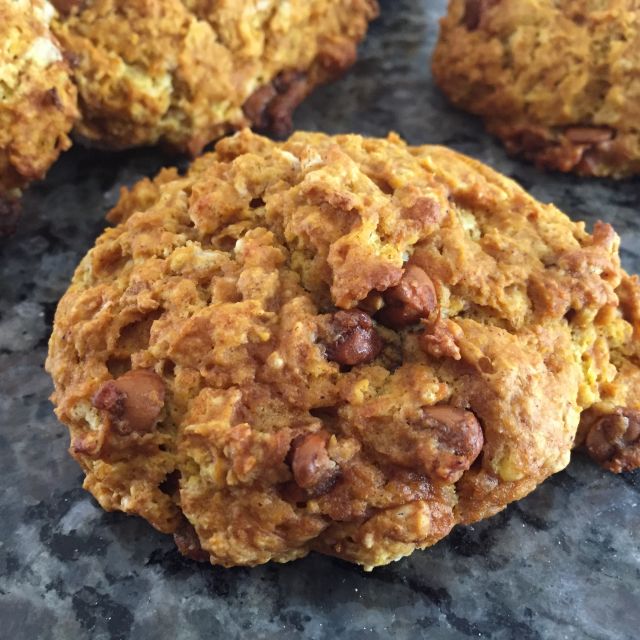 ingredients:
Dry mix:
1 ¼ cup all purpose flour
1 ¼ tsp baking powder
¼ tsp baking soda
½ tsp salt
3/8 cup cold butter
1/3 cup cinnamon baking chips
Wet mix:
¾ cup pumpkin purée
¼ cup cold buttermilk
1/8 cup white sugar
1/8 cup dark brown sugar
¼ tsp powdered ginger
¼ tsp ground cinnamon
1/8 tsp ground clove
1/8 tsp ground nutmeg
Yield: 4 scones
Preheat your oven to 400 °F. Line a baking sheet with parchment or a silpat mat.
Mix the flour, baking powder, baking soda, and salt.
Cut the butter into the dry mix with a fork until it has a wet sand-like consistency.
Stir the cinnamon baking chips into the dry mix.
Mix the pumpkin, buttermilk, sugars, and spices.
Add wet mix to the dry and stir gently with a spatula until the liquid is well incorporated.
Drop the batter on the cookie sheet using a size 20 disher (~3 Tbsp or 1.6 fl. oz.).
Bake 20 minutes.
Cool for a few minutes before transferring to a wire rack to cool further.
---
Written by Jeff Frey on Sunday October 30, 2016
Permalink -