2015 Malbec
From a WinExpert Selection kit containing juice and skins of Argentine Malbec grapes to produce 6 gallons of wine.
---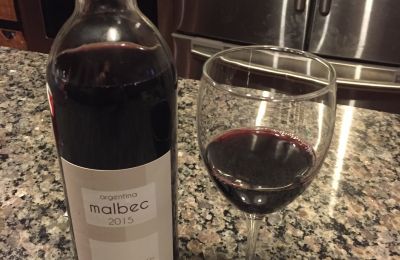 For Christmas 2015 my wife gave me a wine kit — she knows me so well! I'd produced a Moscato earlier in 2015 that turned out quite nicely (very sweet but with no carbonation, which I do like in a Moscato). This time around, though, I really wanted to do a red wine, since I gifted the greater percentage of the bottles of Moscato and I knew I would defintely drink far more of a red myself.
I started fermentation on January 8, 2016. The must itself tasted great and I would have happily drunk a glass of that for breakfast for several months had I not wanted to turn it into wine. The wine was racked twice before being moved to a 6 gallon plastic carboy and aged 18 days before being bottled. I created a label using tools on the UPrinting.com website and ordered from them (excellent customer service, and it printed and shipped quickly).
I added enough metabisulfite to keep this wine stable long-term, so I'm going to do my best to put aside three bottles to see how it ages: 1 year, 5 years, and 10 years. That leaves me with 23 bottles to distribute to friends, family, and myself. Err, make that 22 bottles: I opened one of them already, couldn't resist.
Written by Jeff Frey on Friday February 26, 2016
Permalink - Categories: news, fun