Sweet Italian "Pollo" Sausage
Dinner tonight: homemade sweet Italian sausage slow-grilled over mesquite wood with a side of homemade fettucini. How do I know it was delicious? Juliet asked for seconds and thirds.
---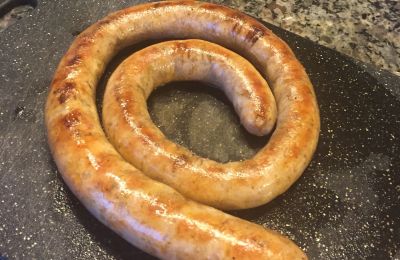 Over the past few years I've worked at perfecting the seasoning blend I use in my homemade sweet Italian sausage. I like to think it's an art: the right proportions of salt, sugar, fennel, and spices (the Doc's own secret blend) matched with the appropriate amounts of lean meat and fat which are ground and mixed while cold enough to emulsify the meat properly. When I started making sausage I thought pork was the acme. Lately, though, I've really come to love using chicken thighs in everything from semi-coarse to smooth varieties (like hotdogs).
Skin-on chicken thighs offer on the order of 20% fat, and the fat renders very well when the sausage is cooked. Keeping the grill temperature around 375 °F is key to keeping the finished product cooked through, with a properly-caramalized casing and juicy interior.
Written by Jeff Frey on Wednesday March 16, 2016
Permalink - Category: food